Dental checkups are a key part of your preventive care, so dental insurance should be an essential part of your overall health coverage each year. Approximately 77% of Americans have dental benefits, and about two-thirds of that 77% had private coverage through either their employer or a group like AARP.
There are many different ways to enroll in dental insurance. Your employer may offer it as part of your benefits package. Those who work for larger companies or who make higher salaries are more likely to have this form of dental coverage.
If you work for a small company or are self-employed, you can always purchase an individual plan. The cost of doing so is often well worth the benefits. Studies show that people who don't have dental benefits are 67% more likely to have heart disease.
If you're currently enrolled in a dental insurance plan or are considering enrollment in the future, it's important to be informed of your coverage. So, what does dental insurance cover? Here's what you need to know.
What Are Your Options for Dental Coverage?
According to the National Association of Insurance Commissioners, there are four basic categories of plans. 
Dental Preferred Provider Organization (DPPO or PPO)
This plan allows you to choose from a range of dentists within the provider network.
If you don't like any of the available dentists, you can choose to go outside of the network. However, be aware that there will be more out of pocket costs if you do.
This form of dental insurance usually comes with co-pays, deductibles, and maximums. An average dental insurance deductible can range from $25 to $100 annually. This small out of pocket expense usually covers preventative care, like cleanings, for free. Your annual benefit maximum will vary between $1,000 and $2,000 per year on this dental health plan.  
Dental Health Maintenance Organization (DHMO or HMO)
With this type of dental coverage, the consumer must choose a dentist under contract with the insurance company. Out of network providers are unlikely to be covered at all.
The benefit of this plan is that dental HMO plans generally don't have a maximum benefit cap. Instead, the company will have a set copay that you pay for each procedure.
Dental Indemnity Insurance
This type of dental coverage allows the consumer to see any dentist they wish, as there are no network restrictions. Instead, you pay a predetermined amount of the typical charge for a procedure.
The downside is that you may end up paying more if the dentist you choose charges more for specific procedures, as they aren't bound by contracts to keep their prices within certain limits.
Some forms of this plan type require you to pay the dentist in full and then file a compensation claim with your insurance provider, which can be a lengthy process. 
Dental Savings Plans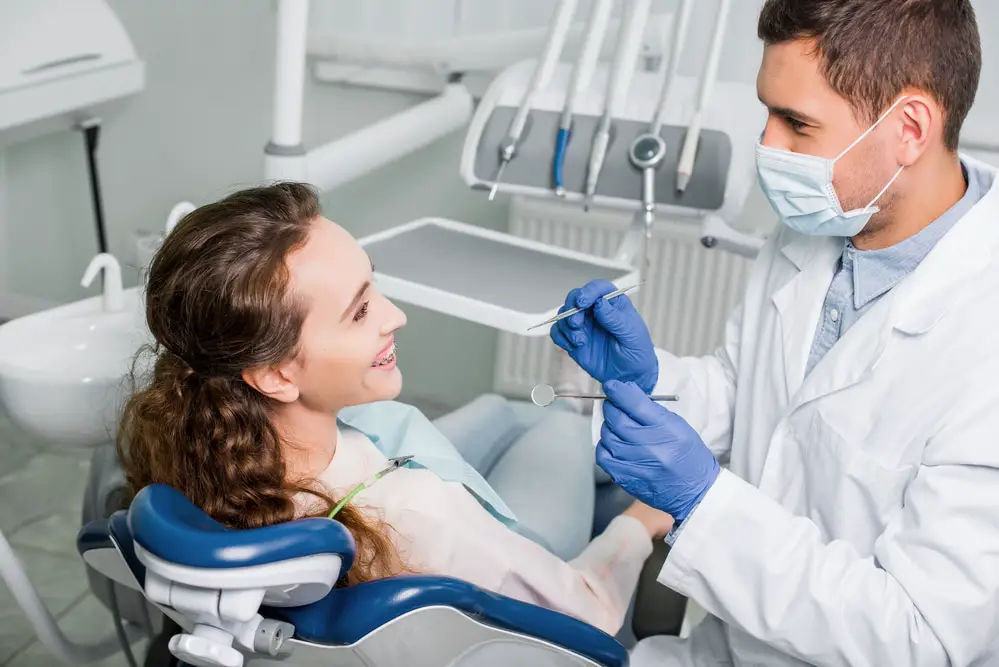 A savings plan is probably the most unique of the different dental coverage plans available to you. With this plan, you pay the dentist directly and are responsible for the full (though discounted) cost of the procedure. Some dentists will agree to perform their services at discounted prices.
Generally, there are no annual maximums, deductibles, or waiting periods, and the discount you receive can range from 10 to 60 percent for standard dental work. This plan can be a great option if you may need more visits or work throughout the year.
Similarly, some dental offices may offer membership programs to individuals looking for coverage. You pay a set fee each year, covering things like two cleanings, an annual set of x-rays, and discounts on additional procedures like root canals or crowns.
It's important to note that dental savings plans aren't a type of dental insurance. Instead, they're a different way to save on dental care. 
What Does Dental Insurance Cover? How Plans Categorize Procedures
No matter which form of coverage you choose, most plans break down dental care into seven different categories.
Preventative Care: cleanings, routine visits, x-rays
Restorative Care: crowns or fillings
Endodontics: procedures like root canals
Oral Surgery: removing teeth or draining minor infections
Orthodontics: braces or retainers
Periodontics: root planing or scaling
Prosthodontics: bridges and dentures
What does dental insurance cover? According to the National Association of Dental Plans, the seven categories above are grouped into three coverage areas for payment purposes:
Preventive Care 
Basic Procedures
Major Procedures.
Preventive Care
Preventive services encompass most dental services that are part of your general oral health care, such as checkups. Think of this as anything routine, like your bi-annual cleanings or your annual full-mouth x-rays. Generally, most plans will cover 100% of preventative care after you pay a small copay.
Basic Procedures
These dental treatments can range from additional office visits to extractions, fillings, root canals, and treating gum disease. Depending on your plan, these dental procedures usually require you to pay a bit more out of pocket.
Major Procedures
Procedures in this category include:
Dentures
Bridges
Crowns
Inlays
You can expect to pay as much as 50% or higher out of pocket for these procedures.
Before you need any work done, check with your insurance provider, as they may categorize procedures differently.
How Much Does Dental Insurance Cover?
Most dental insurance providers follow the 100/80/50 rule for coverage. This rule they'll cover 100% of preventative care, 80% of basic procedures, and 50% of major procedures.
The Waiting Period
Some dental plans may include a waiting period, which means that you can't use your insurance for some (or all) basic or major procedures until you've had insurance for a set period, which can be up to two years.
Dental coverage plans do this to ensure a profit and make sure that consumers don't sign up for insurance just before they need major work done.
Cosmetic Procedures
Most coverage plans won't cover any costs for cosmetic procedures. These include:
Gum Contouring
Teeth Whitening
Tooth Shaping
Veneers
Dental insurance doesn't cover these and similar procedures because they aren't considered medically necessary. If you elect to have one of these procedures done, be prepared to pay for it out of pocket.
Final Thoughts
You may be thinking, "Is dental insurance worth the monthly premiums?" Many people consider dental insurance a luxury, but it's actually a vital component in whole-body health. Whether from an employer or through a plan you purchase yourself, dental insurance can help you keep your teeth and gums free from disease and other issues. 
Learning about what dental insurance covers allows you to purchase a plan that will meet your needs and fit into your budget. With a little bit of research, or some help from an insurance advisor, finding the best plan for you and your family can be a breeze.