Shopping for health insurance is often an overwhelming experience. This is especially true when you're in a transitional period.
If you're in between jobs, shopping around for health insurance, or missed the open enrollment period, short term health insurance may be an option. But what is short term health insurance? And how do you know if it's right for you?
We'll look at short term health insurance and help you decide if it's the best choice for you and how it differs from long term insurance.
Understanding Short Term Health Insurance
Short Term Health Insurance is also known as temporary health insurance or term coverage. As of October 2018, THE Departments of Health and Human Services, Labor, and Treasury approved insurers to provide policies that lasted 12 months or less. Anything outside of this falls into the traditional long term insurance category, which you can renew year after year. 
Initially, short term health insurance was intended for younger individuals or people who couldn't afford regular insurance, but in 2019, these plans became available to everyone.
This type of insurance bridges any coverage gaps in your healthcare, which can be useful if you've recently lost your health coverage, lost your job, or are outside of the traditional open enrollment period. 
These short term plans can also help you avoid receiving a tax penalty for going without health insurance. Keep in mind, the tax credits, liabilities, and coverage vary depending on your state.
Is Short Term Health Insurance Right For You?
While short term medical insurance is a convenient option, it might not be the best option if you're expecting the same coverage of a long-term plan. But if you find yourself in any of these scenarios, you might want to consider short term health insurance:
You just turned 26, and are no longer on your parents' health insurance plan.
You were terminated from your job or quit.
You missed the open enrollment period for long-term insurers.
Short-term policies are a good option if you expect to receive long-term coverage through a new job or if a particular enrollment period is coming up soon. 
Does that mean you should sign up for a short-term medical plan? Not necessarily. Before shopping for plans, figure out what kind of medical care you may need in the time frame you're trying to cover. 
If you are in generally good health and need essentials like your annual physical, short-term insurance could be a good option. Services for mental health treatment, recovery for substance abuse, or prenatal visits may not be fully covered because they require long term care. 
Should you decide to go through short-term coverage, make sure to shop around, and fully understand your options. As we mentioned before, this part of the insurance industry isn't as regulated, and coverage could vary based on the insurer and even your state.
Short Term vs. Long Term Health Insurance
Long term health insurance is what most people strive to get, but it's not always easy to do. For one, these types of plans have an open enrollment period that generally lasts for 60 days. If you miss that window of opportunity, you'll have to wait until the next year to have optimal health benefits.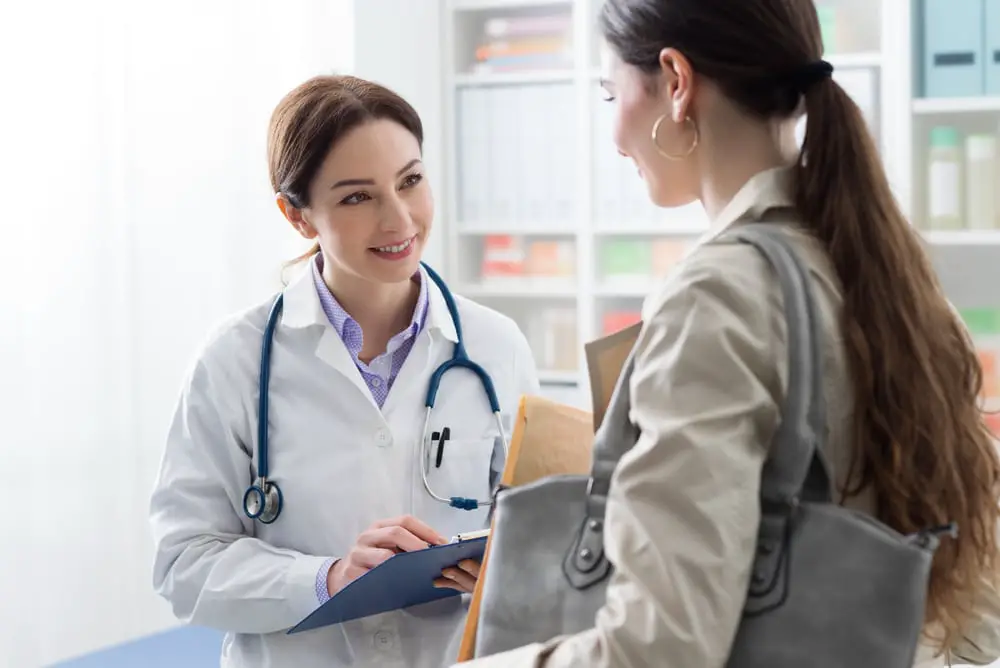 Outside of the open enrollment period, your best bet for long-term health insurance is through an employer. There are individual plans available through the government's healthcare marketplace, which may be eligible for discounts, but these are income-based.
Then there's short term health insurance. These plans are available to sign up for year-round and are an excellent temporary option if you are waiting to enroll in a long term plan. There is a downside to these short term medical coverage, though. 
They don't typically cover pre-existing conditions or other medical conditions like mental health issues. Short coverage periods generally are not the best option for maternity care and may not cover prescription drugs.
How Does Short Term Health Insurance Work?
In many ways, short term health insurance is just like traditional insurance plans. When you enroll, you pay the insurer a monthly or annual fee, and the insurer covers eligible medical expenses. Keep reading to find out what the costs and benefits come with short-term coverage.
Premiums
Your premium is the amount you pay either annually or monthly to keep your insurance policy. By paying your premium on short term health insurance, you will have access to the insurer's network of healthcare professionals. Visiting one of the in-network providers means you'll pay less out of pocket. Short term coverage has a bad reputation for being expensive, but according to a 2018 eHealth report, short term monthly premiums are 80 percent cheaper than ACA qualified plans.
Benefits
With short term health insurance, you'll have access to similar health insurance coverage you can get with long term plans. These plans cover everything from emergency room visits and hospitalization to general doctor's office visits and preventive care. There are still certain conditions and services that they don't usually cover, as we mentioned earlier. Some even limit the number of doctor visits they will cover during the policy.
Deductible
Heath insurance deductibles are the amount you will pay during the year before your insurance provider covers the rest. For example, if you have a $2,000 deductible, you will have to pay $2,000 out-of-pocket before your provider pays for expenses. 
There's a misconception that short term insurance policies require higher deductibles, but that's not always accurate. Like typical health insurance plans, short-term coverage has various deductible options to meet your needs. There are even some plans that have a deductible as low as $1,000.  
Cost-Sharing 
Cost-sharing refers to deductibles, copays, and coinsurance. This means that you will pay a percentage of these expenses when you see a medical professional for a medical procedure or emergency services, and the insurance provider will cover the rest. How much you pay for these categories depends on your insurer, and can vary significantly from company to company.
Out-of-Pocket Costs
Any additional costs that aren't covered by your insurance will be paid out-of-pocket by you. The services that your short term health insurance provider covers will depend on the company. These policies tend to be limited in what they cover, especially when it comes to prenatal care or mental illness treatment. 
Short term coverage is only available through private insurance companies, and not all insurance providers offer this type of plan. If you are interested in finding a short term policy, do an internet search to find an insurer. Make sure to do your homework and compare a few options, though. A government agency does not regulate the short term health insurance industry, so providers can range when it comes to cost and coverage. 
Short Term Health Insurance and the Affordable Care Act
The Affordable Care Act was brought into law in May 2010. The law was designed to make medical care coverage more accessible for everyone, and so far, it has helped millions of Americans obtain health insurance. 
When it began, U.S. citizens were required to maintain some form of health insurance for the entire calendar year, but as of 2019, that has been changed from a federal level to state level. That means the states get to decide whether health insurance is a requirement. Few states have stuck with this penalty, but some, including California, Massachusetts, and Rhode Island, still mandate uphold the health insurance mandate.
To make healthcare accessible and useful to more people, the ACA has outlined a set of guidelines that insurance plans need to meet to be considered the minimum essential coverage. Unfortunately, short term health insurance does not meet these minimum requirements. This means that you may still be penalized on your taxes, depending on where you live. If you're concerned about this, consult a tax advisor to determine if it will affect you.
Short Term Health Insurance Pros and Cons
This type of health insurance problem can be a big help when you don't have a secure long-term policy through an employer or individual plan. Still, short term health insurance is not for everyone. Deciding whether a short term health insurance policy is right for you depends on what kind of coverage you need during the policy period. 
There are also other factors to consider, like affordability and accessibility to medical professionals. 
Pros
Created to fill short-term gaps in medical coverage just in case you need it
Flexibility to cancel your policy at any time, with no penalty
Many short term insurers offer plans that will keep you covered for up to a year
Different plan designs to fit the needs of other policyholders
Cons
Possibility of higher deductibles and unexpected out-of-pocket costs
Short term health insurance plans do not provide coverage for pre-existing conditions and do not cover most things
You may need to fill out a medical questionnaire to get approved
Short term health insurance does not have government regulations like long-term plans, so services and costs can vary significantly between providers
FAQs
Still have questions about short term insurance? Check out some commonly asked questions.
Can Short Term Health Coverage Get Renewed?
Being able to renew a short term health insurance is not a common practice, although you may select a brand new short term plan. That's because this type of coverage protects you for shorter periods. The ultimate goal should be to enroll in a long term health insurance plan by the time the policy expires.
Do I Need a Primary Care Provider?
This depends on the health insurance provider, although they usually have their provider network. Still, some insurers require you to have an established PCP, but most insurers allow you to see any qualified medical provider in their system. 
Is Short Term Health Insurance Good for Families?
While you can add your spouse ad family to your short term coverage plan, it's not as simple as with traditional policies. Short term health insurance requires medical underwriting. This means that you may be subject to answering questions about your medical history to get approved, and each family member you add will have to meet the same medical requirements. For that reason, we don't recommend short term health insurance plans for families.
How Long Does it Take to Get Coverage?
If you need health coverage fast, most short term plans can become active in a matter of days once you're approved, but this depends on the provider. This is due to the fact that short term health insurance isn't subject to enrollment periods.
Does Short Term Health Insurance Have Enrollment Periods?
No, there is no open enrollment period for short term health insurance. That's because this type of coverage is meant to fill in the gaps between lapses in standard coverage. Therefore, you can sign up for short term health insurance year-round.
Can I Combine Short Term Health Insurance with Other Policies?
Health insurance doesn't usually include vision and dental, so it's not uncommon for people to get policies that cover each area. Short term health insurance is no different. You can combine a short term health insurance plan with other insurance plans to create well-rounded coverage.
Can I Cancel Short Term Coverage Early?
What happens if you find the long-term coverage you need in the middle of your short term health insurance policy? Fortunately, these insurance plans are all about flexibility, so that you can cancel it. This is a notable difference between long-term policies, in which can't you can't cancel mid-policy unless there was some qualifying event. 
Get the Right Coverage for You and Your Family
Understanding what short term health insurance is and how it differs from long term insurance can help you make the right choice when it comes to your medical coverage. 
This is an excellent option to consider if you are experiencing a lapse in coverage and need a policy that will last 12 months or less. These are flexible insurance options that can keep you covered, no matter what comes up.